St Helens Council considers reverting to 'Olympic' motto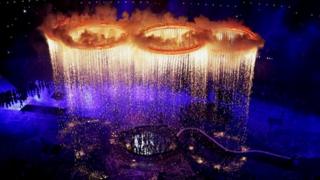 A council could change a town's motto back to one removed almost 40 years ago, in a move spurred on by the London 2012 Olympic Games opening ceremony.
Ex Terra Lucem, roughly meaning "out of the earth came light", was used by St Helens from 1876 until 1974.
Frank Cottrell Boyce, scriptwriter for the ceremony, said the motto connects the town's industrial past "with a brighter vision of the future".
The St Helens-born writer said the phrase inspired some of the show.
'Tremendous tribute'
The current motto is Prosperitas in Excelsis, meaning 'flourishing well'.
St Helens Council said Cottrell Boyce had made it "very clear" the motto was a "significant influence in the development of the ceremony".
Council leader Marie Rimmer said: "What a tremendous tribute to the borough's historic legacy and our key role in the industrial revolution which featured so prominently in the ceremony.
"For our borough to be an integral part of a ceremony that captured the attention of the world is beyond words."
The council added there has been a "groundswell of local opinion" that the town should revert to its former motto following the Games.
A petition was also set up in favour of the move.
The council said the original motto had been replaced due to boundary changes which brought in several urban district councils.
Cottrell Boyce said: "It would be great if they go with the incredibly moving, poetic phrase."
He added the same phrase had inspired The Dream, a 66ft (20m) statue of a girl's head designed by Jaume Plensa at the former Sutton Manor Colliery, in St Helens.
The move to change the motto is due to go before full council on Wednesday.
The council said should the change be approved, a small fee would be paid to the College of Arms to register the change.