Liverpool double rapist Mindaugas Budkus jailed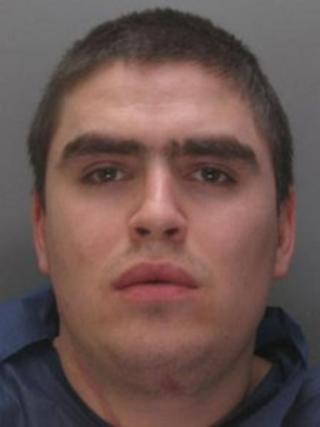 A man convicted of raping two women within three weeks in Liverpool has been sentenced to life in prison.
Mindaugas Budkus, 23, of Kirkdale, was convicted of the rapes, including one at knifepoint, after a two-week trial at Liverpool Crown Court.
He was arrested after CCTV footage showed him following the second victim, aged 21, to her student halls, police said.
Budkus was told he must serve a minimum prison sentence of nine years.
He was convicted of six offences of rape, one of assault occasioning actual bodily harm, one of robbery and one of possessing an offensive weapon.
DNA linked him to both crimes but he still "put the victims through the trauma of a trial", detectives added.
Officers said Budkus talked his way into the home of a 39-year-old woman after meeting her in a takeaway following a night out.
Weeks later he followed a 21-year-old woman through the city centre late at night, before tricking his way into her halls of residence and raping her at knifepoint.
He also robbed his victims, police said.
A Merseyside force spokesman said: "CCTV experts painstakingly pieced together hundreds of hours of footage from dozens of cameras across the city to establish that he lived in the Kirkdale area, and further inquiries led detectives to his home."
Budkus claimed that on the first occasion the sex was consensual and he could not remember the second as he had been on drugs.