Liverpool Central Library to host literary festival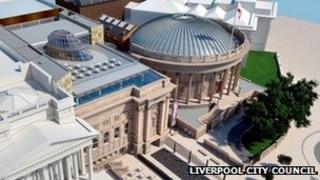 Liverpool will hold a literary festival "like no other" to celebrate the reopening of its Central Library following a £50m refurbishment.
In Other Words will run from 23 April until 19 May, incorporating the public reopening of the library on 17 May.
A spokeswoman said the event would include book swaps, poetry competitions and "performances in unique venues".
Liverpool mayor Joe Anderson said it would showcase "tremendous talent and may even unearth future writing stars".
The city council will be working in partnership with community writing organisation Writing On The Wall, the Merseyside Literature Partnership and other local groups to finalise details of the festival, which will be partly funded by Arts Council England.
'Exciting ideas'
Mr Anderson said that because the library was "a historic and important city gem, we want there to be an event which highlights the city's reputation for producing much-loved playwrights, storytellers, songwriters, poets and authors".
He said: "We're hoping that organisations from across the city will come forward with exciting ideas to showcase Liverpool's creativity and encourage people to get involved in reading, writing and performing.
"It will be a festival like no other - showcasing the tremendous talent which can be found in the city, and you never know, it may even give us the opportunity to unearth future writing stars who will be the next Willy Russell, Beryl Bainbridge or Paul McCartney."
Work on the refurbishment of the Grade II listed Central Library began in 2010 and has included the demolition of the 1950s Brown Library and the 1978 extension.
It has also seen a new building built behind the original listed facade and the restoration of the domed ceiling in the Picton Reading Room, which was constructed in 1875.