David Corridon robbery stabbing: Five now found guilty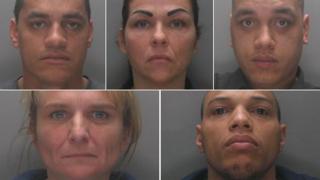 Two brothers have been convicted of the murder of a man who was stabbed at a house in Liverpool.
Nicholas and Willis Nelson were found guilty of killing David Corridon during an attempted robbery in New Hall Lane, Norris Green, last February.
Maureen Smith, 39, her sister Kelly Smith, 35, and Tyrone Griffiths, 34, were found guilty on Tuesday of the 32-year-old's murder.
All five were convicted at Liverpool Crown Court of conspiracy to rob.
The court heard how Nicholas Nelson, 30, of Kensington, and Willis Nelson, 31, of Garston, broke into the house as part of a plot to steal £40,000 they thought was hidden in his loft.
'Lack of remorse'
They ended up stabbing Mr Corridon six times and he died at the scene.
The brothers will be sentenced later this week along with Mr Corridon's ex-partner Maureen Smith and her sister, who are both from Toxteth, and Griffiths, of Kensington.
Mr Corridon's father, also called David, said: "David was a young, fit, healthy man, who was taken from us in the prime of his life.
"He was mild mannered, sincere and a devoted father, big brother and son - he was everybody's friend.
"Greed played a major role in this case and we have been shocked, appalled and devastated by the events."
He added: "However, the total lack of remorse and common decency from the defendants and some of their family members, has hurt us the most.
"Not only did these people murder David, but they also assassinated his character. Justice can never replace a son, but it may help."