Rare giant anteater born at Chester Zoo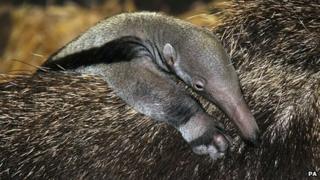 Chester Zoo has hailed the success of a breeding programme after a rare giant anteater gave birth to a second baby.
The young animal, which has yet to be sexed, was born at the Cheshire zoo on 23 December to parents Pedro and Bliss.
A zoo spokesman said it was the second baby to be born as part of an international breeding programme and "good news for the species".
Team manager David White said the baby, which clings to its mother for six months, was "quite the sight".
Giant anteaters, which are native to Central and South America, are classed as vulnerable to extinction in the wild and are a predominantly solitary species.
Mr White said "seeing the youngster clinging on tightly to her tail is quite the sight".
"Bliss is a very good mum and is so far doing an excellent job of looking after her new arrival.
"She's obviously very proud of her newborn and has, every now and again, been parading around and showing off to our visitors."
Pedro and Bliss are both three-years-old and arrived at the zoo in 2010. The pair produced their first offspring in 2011.