Liverpool University £13.8m union upgrade plans released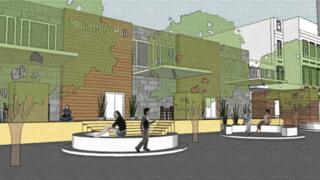 Plans for a £13.8m refurbishment of the University of Liverpool's students' union have been released.
The work on the Liverpool Guild of Students, due to finish in 2014, will deliver a "21st Century space" for the university's 20,000 students.
Plans include a new bar, cafe and a meeting area for members of 160 societies to use.
The union, based at Mount Pleasant since 1911, secured the investment in 2012 from the University of Liverpool.
Mountford Hall, the university union's 3,000 capacity live music venue, will also be refurbished under the plans.
Sam Butler, Liverpool Guild of Students president, said: "I'm absolutely thrilled we're now at the major refurbishment element of the building project.
"We've spent a significant amount of time consulting with our members on what they want the space to deliver, and working with the university to put these ideas in place."
During the work, a temporary union site is being used at nearby Abercromby Square, with some services remaining open at Mount Pleasant.