Saint John Bosco relics on display in Liverpool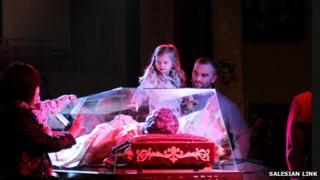 The relics of a 19th Century Italian Catholic priest, noted for his work with the poor on the streets of Turin, are going on display in Liverpool.
Liverpool Metropolitan Cathedral is hosting the relics of St John Bosco, from 15:00 until 17:15 GMT on Monday.
They have been brought to the city as part of a world tour, which began in 2009 and culminates in 2015, the 200th anniversary of his birth.
The UK tour began in Scotland and takes in Birmingham, London and Cardiff.
Hundreds of pilgrims are expected to attend a Mass in Liverpool, which begins at 15:00 GMT.
This will be followed by a chance to venerate the relics until 20:30 GMT.
"This is an intriguing and a unique event combining the unusual practice of venerating relics with a down-to-earth experience of an optimistic spirituality for all," said Father Martin Coyle, the provincial leader of the Salesians in Great Britain, the religious order founded by the saint.
Better known as Don (the Italian for father) Bosco, the saint had wanted to visit the UK in his earlier life before he ended up working with destitute children in Turin.
The relics will also be on display at St Chad's Cathedral, Birmingham, from Tuesday to Wednesday, St David's RC Cathedral, Cardiff, on Thursday, Westminster Cathedral, London, on Friday and Saturday and St George's RC Cathedral, Southwark, on 13 and 14 January.