End to beach maintenance backed by conservationists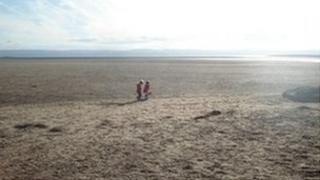 Conservationists are backing council plans to end the maintenance of Wirral beaches in a bid to save money.
Wirral Council is proposing to stop looking after 16 of the area's beaches, which includes spraying them to prevent marsh grasses growing on the sands.
Wirral Wildlife, the Wirral branch of Cheshire Wildlife Trust, said the plans would be beneficial to Hoylake beach.
Dr Hilary Ash from the group said trying to stop the growth of marsh grass was "fighting nature".
She said: "The council's proposals do include stopping picking litter off the beach, and that is of course ridiculous and we obviously do oppose that.
"On the other hand, for years now they have been spraying marsh grass that is trying to grow on the beach and it is just fighting nature."
She added: "It is expensive, it is several thousand pounds a year. Also the sand blows in on the roads and that has to be cleared off and the sea wall has to be maintained.
'Unprecedented cuts'
"There is a natural process that is going on here, the Dee Estuary has been silting up since the last ice age, the Hoyle Lake is full of sand, so the sand is blowing on shore, and that is why it is trying to turn to salt marsh.
"If it was allowed to do so then it would protect the sea wall and it would give more space for animals and plants."
Some local residents are against the idea, and are worried the beach would become a marsh similar to that further down the coast at Parkgate.
The council currently spends about £4,000 a year on work to maintain and spray Hoylake beach to rid it of the Spartina grass.
Geoffrey Watt, Conservative councillor for West Kirby and Thurstaston, said local residents are keen for the growth of marsh grasses to be stemmed.
'Large clumps'
He said: "What Hoylake is all about is golden sand and the tide coming in and out, and the activities of boats and the lifeboat, that is what people like to see here and what they value. They do expect the council to do something about it.
"In recent years people have been very annoyed that the grass is starting to appear in large clumps and they pressed the council to do something about it and they have done.
"It has been very effective and I think people would be very annoyed if it were to be stopped for the saving of a small amount of money."
The consultation on the cuts continues until the end of January.
Other proposals included in the package of cost-cutting measures include reductions in maintenance of parks and open spaces, charging schools for the provision of crossing patrols and reducing leisure services across the borough.
A Wirral Council spokesperson said: "We are facing unprecedented cuts to funding from central government. This, combined with increased demand for social care in particular, means that we have no choice but to cut around a third of our budget.
"We are undertaking a large-scale consultation exercise with residents and local businesses - which closes at the end of January - in respect of a series of options for how we prioritise our services.
"Options for making savings do include looking at the maintenance of parks and open spaces, such as beaches, and we welcome people's views on the matter.
"However, it is important to stress that no decision has yet been taken and we urge people to have their say before the consultation ends."