Historical society founder Brenda Murray honoured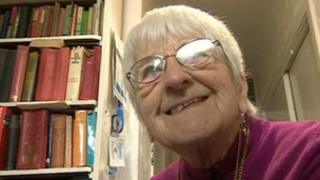 The 89-year-old founder of the Liverpool Historical Society has been honoured in the New Year Honours List.
Brenda Murray, from Blundellsands, received the British Empire Medal (BEM) for services to heritage and history.
Also honoured were Amanda Reddin, head national coach of British Gymnastics, who coaches three-time world gymnastic champion Beth Tweddle.
Ms Reddin, from Liverpool, was appointed OBE in the New Year Honours list.
Geoffrey Prince, from Frodsham, Cheshire, also received a British Empire Medal (BEM).
He set up Will To Work, a charity for people with disabilities, after recovering from a brain infection.
'Something else to offer'
The former builder started the charity - for people who are unable to go back to work or previous occupations - 12 years ago after he got encephalitis.
The condition infected most of his organs, particularly his kidneys and he underwent a kidney transplant four years ago.
He has been recognised for services to the community.
"Everybody has something else to offer," he said.
"When people are referred here, they have their head down between their legs, and are not very happy. After a week or two they are laughing and joking.
"I get so much out of that, you can see it is doing so much for them."
The workshop offers activities like woodwork, metalwork and pottery and does repair work for councils and schools as well as repairing broken toys.
Eileen Alldritt from Walton has also received a BEM for services to tenant empowerment and the community in Liverpool.
She has been pro-active in encouraging people living in sheltered accommodation to get involved in the wider community.
She said she showed tenants "there was more to life than bingo and coffee mornings".
Historian Tracey Fisher from Eastham has been appointed MBE for services to young people through the Duke of Edinburgh's Award.
She said the honour is recognition for the whole team who help run the youth service on the Wirral.
'Fall asleep'
"This is for all the people who have helped to organise the awards and expeditions," said the 46-year-old.
Retired police officer and BBC Radio Merseyside sports contributor Joseph Roper was appointed MBE for services to education and to the community in Birkenhead.
Mr Roper, who retired from the police force in 1992, has been a school governor at four schools and works with the Cavendish community in Birkenhead. He organises everything from catering to hair and beauty for the people who live there.
He said: "One of the big things is the involvement. Once you retire you could quite easily sit at home, put the television on and fall asleep. And I don't want to do that, I like to be involved.
"I think you can grow old too quickly and you don't do yourself justice by not getting involved."