Suspended Wirral Council highways chief David Green is cleared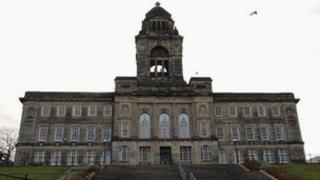 A Wirral Council chief suspended over criticism of the way a £40m highways maintenance contract was awarded has been found to have "no case to answer".
Highways chief David Green was suspended in March amid allegations he favoured the firm that won the tender.
Three other senior officers were suspended in June after the Audit Commission found "significant failings" in procedures.
Mr Green is due to return to work in January after being cleared.
The investigator Richard Penn, a former local authority chief executive, looked into allegations that Mr Green met the winning bidder to discuss the contract before tenders were submitted and only declared a personal relationship with the representative after contract had been awarded.
Contract to cut costs
He found that at the time Mr Green had the meeting with the firm's representative no formal invitation to tender was in place, and he said Mr Green later declared an interest in line with the council's Code of Conduct.
Council chief executive Graham Burgess said: "Following the council receiving a critical report from the district auditor into the award of the HESPE contract, in which a number of matters were raised, the decision was taken to suspend Mr Green while his role in the issues raised was properly investigated.
"Richard Penn was appointed as independent external investigator on the recommendation of the Local Government Association to ascertain if these matters required the council to take disciplinary action.
"Richard Penn has now sent his report to the council having established that David Green has no case to answer."
The three other officers suspended pending investigation were acting chief executive Ian Coleman, finance director David Taylor-Smith, and law boss Bill Norman.
The deal under review was set up in an attempt to bring several contracts together to cut costs.
The council previously had a number of small contracts covering issues such as road maintenance and street lighting, and the HESPE contract brought all those elements under one large contract.