Liverpool pantomime and Christmas festival scrapped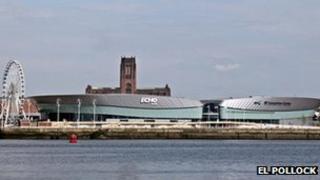 A Liverpool pantomime has been scrapped after 10 shows.
Liverpool's Echo Arena, which was staging the Sleeping Beauty pantomime, said the show had been cancelled because Core Promotions Ltd had ceased trading.
The pantomime was part of the company's Christmas Family Festival on Liverpool's waterfront, which has also been scrapped.
The Echo Arena said people with tickets for the show would get refunds.
Production costs
The pantomime had been due to star former Coronation Street actor Andrew Lancel, who played Frank Foster in the soap.
Mr Lancel quit the show after being charged with five counts of indecent assault on a child under 16 dating back to the early 1990s.
He is due to go on trial at Liverpool Crown Court in April.
A spokeswoman for Core Promotions Ltd said: "A late forced change in our star billing resulted in a delay in our operations and significant increase in production costs.
"Adverse weather conditions and a technical difficulty lead to the late start of the family festival, and this resulted in a significant loss of ticket revenue.
"These unforeseen increases in production costs, together with a major creditor demanding payment earlier than originally agreed eventually lead to company finances being unable to sustain the festival."