Son's torment over mother missing in Lanzarote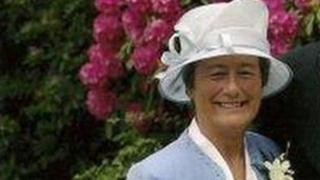 "It makes it so much harder not knowing what has happened to her," said Ben Riley, whose mother Margaret Holt went missing on a hiking holiday in Lanzarote a year ago.
"I think about her every day. I just wish I knew what happened to her."
Mr Riley said he had given up hope of his mother, who is from Spital on the Wirral, being found alive.
He said he was waiting with a heavy heart for the inevitable call to say her body had been found.
"It would be so much easier to cope if there was a conclusion," said Mr Riley, a company director from Ramsbottom in Greater Manchester.
Sixty-five-year-old Mrs Holt left her hotel in the resort of Costa Teguise on the morning of 23 December 2011.
She was wearing a light pink vest, khaki shorts, walking sandals and was carrying a drawstring bag.
Police dogs
Later that day the retired IT worker was spotted in Orzola, to the north of the island, on a coastal path.
It was the last confirmed sighting of her. Her passport and bank cards were found in her hotel room along with a guidebook indicating she intended to walk in north Lanzarote.
When his mother did not contact him over Christmas, Mr Riley called the Spanish Civil Guard, and flew out to the Canary Islands.
There was an extensive search of the area involving helicopters, sea rescue teams, and police dogs, as well as the island's hiking group and hang-gliders' association, in the weeks after her disappearance.
Expats on the island also joined in the hunt for Mrs Holt and Mr Riley made an appeal for information on his mother on Spanish TV.
But after two weeks of searching the island, he returned home.
He believes his mother fell from a path either into the sea or down the cliffs which he said have steep drops.
Mr Riley said his mother was an experienced hiker and often went on hiking holidays.
"She was very fit and active and loved walking and travelling. My mother had done the Pennine Way, walked round the Isle of Man and often went to Portugal because she loved the weather."
'Every day the same'
He said she went away a lot and had a passion for the outdoors.
"It was her first time in Lanzarote - she wanted to try somewhere new."
With no news of her fate he said he would not make any plans to mark the first anniversary of her disappearance.
"Every day is the same until I get some news on her.
"I have heard nothing from the Spanish police. They haven't been supportive at all.
"Luckily, Merseyside Police have liaised with them on my behalf. I can't praise them enough."
In November Mr Riley and his wife celebrated the birth of their daughter Aoife.
"We are overjoyed," he said.
"It is so sad I have no news on my mother but I know she would be so proud and happy about Aoife."