Hillsborough families praised for long fight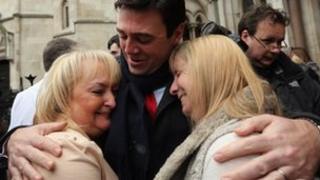 Relatives and friends of some of the 96 victims of the Hillsborough disaster watched a live link from Liverpool as the High Court ordered new inquests into the deaths.
Stephen Kelly, who lost his brother Michael, 38, at the Sheffield stadium, was among those watching as it was announced that the verdicts of accidental death were to be overturned.
He said: "I'm absolutely over the moon.
"It's a brilliant result today, we've justified our actions for all these years."
Marion Brady, whose son Paul, 21, died in the disaster, said it was "absolutely wonderful" that a new police investigation had been instigated.
She said: "It's been very hard. We have had knockback after knockback. I just hope I live to see it all come to fruition."
'Banged up'
Mayor of Liverpool Joe Anderson said after the decision: "This is a watershed moment on the road to justice for the families of the 96, and I share their overwhelming relief that, after 23 very painful years, the inquest verdicts have been quashed.
"We must all keep up the pressure that has driven the momentum over the last few months to make sure that the families get the justice they deserve," he added.
Earlier on Tuesday, Home Secretary Theresa May said there would be a new police investigation into Hillsborough.
Former Lord Mayor of Liverpool and Liberal Democrat councillor Eddie Clein said those responsible needed to be held to account.
"What I want to see is a lot of people, including police, banged up," he said.
"They need to pay the price and the ultimate price is to see some of them, a lot of them, banged up for the suffering and the hurt they have caused to the families.
"I just hope that no-one sees days like Hillsborough again."
Liverpool actor and Hillsborough survivor Neil Fitzmaurice spoke of the "David and Goliath" fight taken on by the mother of one of the victims.
Paying tribute to Anne Williams, whose son Kevin died in the 1989 tragedy, he said her journey was "an incredible story of dedication to her son and of just being a mum".
In a sentiment echoed across Merseyside, Mr Fitzmaurice said he was "elated" at the decision to quash the inquest verdicts of the Hillsborough victims.
"It is just incredible that this long, long journey seems to be coming to an end," he said.
The actor, who has appeared in Phoenix Nights and Peep Show, added: "This opens up a lot of doors.
"It does mean that finally people are being forced to listen to what went on and it's just a huge hope now for the families concerned."
Speaking about Mrs Williams, who has terminal cancer, he said: "If anyone deserves a bit of happiness in their lives then it is Anne.
"Anne's story is very tragic. Talk about the David and Goliath, that woman took them on with a lot of help from friends but she spearheaded that herself, just as a mother who wouldn't give up."
Writing on Twitter, former Liverpool striker John Aldridge said: "Great news! Accidental verdict been squashed."
Aldridge, who was in the team which played in the abandoned semi-final 23 years ago, added: "It had to happen. A new investigation on the police as well. And that had to happen too. YNWA (You'll Never Walk Alone)."
Andy Burnham, Labour MP for the North West constituency of Leigh, was instrumental in championing the Hillsborough victims' plight.
He hugged family members outside the Royal Courts of Justice, saying: "It is unbelievable what the families have been through.
"For them to get on a coach in Liverpool at 5am and come down to London and be told what they should have been told 23 years ago says so much about their determination."