Hillsborough single VAT 'waived', Prime Minister indicates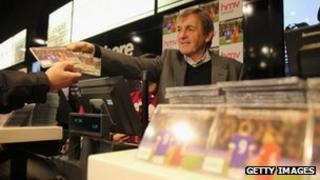 Sales of a Hillsborough charity single will not be subject to VAT, the Prime Minister has indicated.
Calls were made to waive the tax after a cover of The Hollies' He Ain't Heavy, He's My Brother, was released.
Relatives of the 96 football fans who died in the 1989 disaster are continuing legal action after a report found 41 could have been saved.
David Cameron told the Commons he could "confidently predict" the VAT decision would "go down well on Merseyside".
His announcement, during Prime Ministers' Questions, came as the High Court quashed the inquest verdicts of accidental death and Home Secretary Theresa May ordered a new police inquiry into the disaster.
The celebrity-backed single is currently favourite to become the Christmas number one.
Sir Paul McCartney, Robbie Williams, former Spice Girl Mel C and Gerry Marsden are among the line-up.