Memorial to WWII Cockleshell Hero Cpl Albert Laver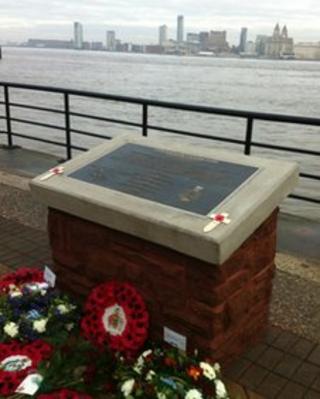 A memorial has been unveiled in Merseyside to commemorate a group of Royal Marine canoeists who were behind a daring raid during World War II.
In 1942, 10 Royal Marine canoeists embarked on a mission to attach mines to enemy supply ships in Bordeaux. Only two survived.
The men became known as the Cockleshell Heroes and included Cpl Albert Laver from Birkenhead.
Lord Paddy Ashdown unveiled the memorial on the riverfront at Woodside.
He said: "This was one of the most dangerous and daring raids of World War II.
Executed
"The young men who took part, including Corporal Laver, knew there was a very good chance that they would not return, and they were prepared to risk their lives at a time when our nation's survival was at stake."
Mayor of Wirral, Councillor Gerry Ellis, said it was "an honour to pay tribute to one of Birkenhead's most famous and courageous sons".
The plan for Operation Frankton had been for the canoes, each containing two men, to be dropped off by submarine before paddling the 60 miles (97km) upstream to Bordeaux.
Only two canoes managed to complete the four-day journey before successfully damaging six ships during the night of 11 December 1942.
Of the eight men who died, two drowned and the remaining six were executed after being captured at various stages of the mission.
In 1955 a fictional version of the story was made into a film called The Cockleshell Heroes.