Anne Williams: Clock ticking for Hillsborough mother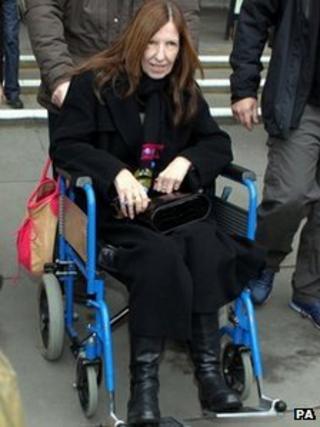 Anne Williams knows time is slipping away on whether she will live to see justice for her son Kevin, one of the 96 Liverpool FC fans who died as a result of the 1989 Hillsborough Stadium disaster.
The Hillsborough campaigner was at the High Court to hear the original accidental death verdict quashed - a significant step in her battle to have a fresh inquest heard before she dies.
The news follows the 59-year-old from Chester being diagnosed with terminal cancer, just weeks after the landmark report by The Hillsborough Independent Panel was published.
"The sooner we can get the truth, the sooner the families will be able to get on with their lives," she said.
"They will never forget - we try to mourn the children but we have had two issues and I want to get Hillsborough out of my life."
The move at the High Court paves the way for a fresh inquest into the deaths of the 95 who perished in the crush on 15 April in Sheffield and the 96th victim, who died three years later when the Law Lords ordered an end to his tube-feeding.
Kevin was 15 when he died in the disaster.
'Dignified defiance'
Fellow campaigners have praised Mrs Williams' tenacity during the 23-year quest for justice.
Steve Rotheram, Labour MP for Liverpool Walton, who was working as a bricklayer when he attended the match in Sheffield, said: "She has been so resolute in not accepting the excuses that were often placed at her door.
"I cannot say enough how much her persistence has been an example to everybody."
Bishop James Jones, who chaired the panel, said Mrs Williams "maintained a dignified defiance" throughout the campaign.
Mrs Williams last saw Kevin, whose favourite players were John Barnes and Bruce Grobbelaar, as he set off to see his beloved Liverpool play Nottingham Forest in the FA Cup Semi Final.
His last words when she said 'I hope you win' were: "No worries mum it will be 3-0."
The official 1991 inquest said Kevin and 94 others were dead by 15:15 GMT, but Mrs Williams turned from grieving mother to ardent campaigner when she heard claims he was still alive 45 minutes later.
'Missing witnesses'
It led to her tracking down witnesses, one of whom suggested Kevin uttered the word mum around 16:00.
Three Attorney Generals rebuffed her campaign down the years for a fresh inquest, which was also rejected by the European Court of Human Rights in 2009.
The breakthrough came with the publication of evidence which showed police and emergency services made "strenuous attempts" to deflect the blame for the disaster on to innocent fans.
It also revealed that 41 fans could have been saved and cast doubt on the "3.15 cut off" imposed by the coroner.
Since then there has been a race against time for Mrs Williams, who has described herself as being "very poorly".
An online petition calling for a fresh inquest was backed by Mr Grieve early last month.
Speaking outside the High Court, Mrs Williams said: "I thank Dominic Grieve because he really has been a man of his word - he did what he promised and he's done an excellent job.
"It's been worth it. I was never going to give up.
"I know what happened to Kevin and I want them to put the record straight, call new witnesses and tell the jury what happened to him."