Cousin's tribute to WWII Cockleshell Hero Cpl Albert Laver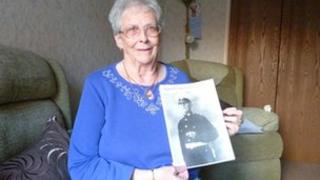 A memorial has been unveiled in Birkenhead celebrating a group of Royal Marine canoeists who were behind a top secret raid during World War II.
Birkenhead-born Cpl Albert Frederick "Bert" Laver, was one of ten marines who attacked German cargo ships in Bordeaux harbour in 1942.
Only two of the commandos returned from the mission, immortalised in the 1955 film The Cockleshell Heroes.
Cpl Laver was shot by the Germans for his part in the mission. He was 22.
'Incredibly brave'
Cpl Laver's second cousin Eileen Smith, who lives in New Brighton, said her late mother Florence was the last member of the family to see him the day before he left for action.
"My mum thought the world of him and the day before he left, he had called round to their house while his ship was berthed at Cammell Laird," she said.
"He went to the pictures with my mum and told her about a mission he had volunteered for.
"He told her he might not come back."
Lord Ashdown, himself a former Special Boat Service officer, unveiled the memorial saying it was an "unbelievable story".
He said: "Britain's strategy was to try and deny the Germans access to very specialised raw materials for their war machine that could only be brought by ship from newly-captured Japanese possessions in the Far East.
"The army said they couldn't take this task on, the Navy couldn't do it, the RAF said they couldn't do it, so they turned to ten marines in five fragile canoes.
"Of the ten who left the submarine 70 years ago, four were captured, two drowned and only four got through to the port of Bordeaux. Bert Laver was one of those.
"He made it through. He wasn't killed on the raid, but on his way out he didn't manage to get French clothes, so he was still in uniform.
"Bert and Bill Mills bumped into the one Frenchman who was a collaborator and he betrayed them to the Germans. They were shot on the 23rd March 1943."
'Selfless act'
Only two men survived to tell the tale of Operation Frankton, but its significance reportedly led Winston Churchill to say he believed the raid could have shortened the war by six months.
Years after Cpl Laver died, Mrs Smith recalls going to the cinema with her mother to see the film made about the mission in 1955, starring Trevor Howard and Anthony Newley.
"She just cried through the whole thing," she said. "I think it really hit her that he was such a young man and so brave."
Cpl Laver's name lives on in the family, and every Remembrance Sunday Mrs Smith's niece, Cheryl Dolan, places a Remembrance Cross at Birkenhead Cenotaph marked "To Our Own Cockleshell Hero."
Mrs Smith said: "The whole family is so proud of him even though we know so little about him.
"He was obviously very brave, what a selfless act."