Archbishop Patrick Kelly to miss Midnight Mass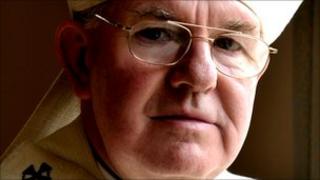 The Archbishop of Liverpool, the Most Reverend Patrick Kelly, will not be celebrating Midnight Mass following his stroke on Monday.
The archbishop, who was 74 last month, has been advised he needs a "substantial period of convalescence".
Archbishop Kelly's condition has improved and he is responding well to treatment, said the archdiocese.
This could be his last year in charge as he must submit his resignation to the Pope on his 75th birthday.
Midnight Mass from Liverpool Metropolitan Cathedral is being broadcast by BBC Radio 4 this year.
A statement from the archdiocese on Tuesday said: "After a comfortable night the archbishop's condition is greatly improved and he is responding well to treatment.
"He has been advised that he will require a substantial period of convalescence and he will therefore not be undertaking any engagements in the immediate future."
His duties are being carried out by Auxiliary Bishop Tom Williams and retired Auxiliary Bishop Vincent Malone.
The archbishop is expected to remain in hospital for several days.
Earlier this year he celebrated 50 years as a priest.
The Archdiocese of Liverpool covers the Liverpool side of Merseyside, the south west of Greater Manchester, West Lancashire and the Isle of Man.