Liverpool's bishop and mayor to host cuts summit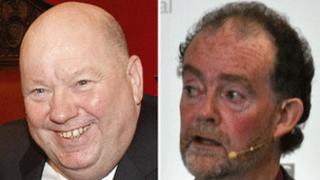 A summit attended by cities who claim they have been hit hard by government spending cuts is to take place in Liverpool next month.
The city's Labour mayor Joe Anderson and Anglican Bishop James Jones will host the event at the Arena and Convention Centre on 18 January.
Birmingham, Bristol, Newcastle and Sheffield will all send representatives.
The conference will also hear from faith leaders from each city.
'Fair deal'
Mr Anderson said: "Local government is facing unprecedented reductions in funding which will change forever the way in which we deliver services. Nobody will be left untouched by the scale of cuts.
"We are demanding the government listen and take notice of the dire situation faced by local authorities, and will be highlighting how their policies are jeopardising the services we provide."
The Department of Communities and Local Government (DCLG) responded to the summit by saying: "We are giving local councils a fair deal - this year the North West had a total spending power for each household of £2,147 to protect the front line services people rely on, around £250 more than the average in the south of England.
"In addition the government has supported cities such as Liverpool with their local growth ambitions through its Enterprise Zone, and a City Deal which includes a £75m fund to support economic development. "
During the event, each city will speak about the impact of the cuts and how they are tackling them.
The council leaders attending from other cities will be: Birmingham City Council leader Sir Albert Bore (Labour), Bristol mayor George Ferguson (Independent), Newcastle Council leader Nick Forbes (Labour) and Sheffield Council leader Julie Dore (Labour).
Bishop Jones recently told a House of Lords debate: "It is demoralising to analyse the statistics across the country and discover that, far from there being a level playing field, there are staggeringly steep differences in funding across the nation, which makes the pain of applying these cuts even more severe."