Eddie Gilfoyle campaigners launch 'catalogue of errors' booklet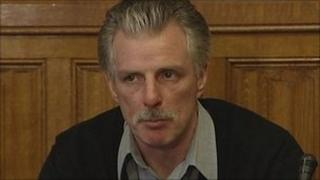 A group claiming a man was wrongfully convicted of murdering his pregnant wife has taken a catalogue of alleged police errors to the House of Lords.
Eddie Gilfoyle, 50, was found guilty of killing wife Paula after she was found hanged in the garage of their home in Upton, Wirral, in 1992.
Campaigners say he would not have been convicted if Merseyside Police had not withheld evidence for 16 years.
The booklet was launched at an event hosted by Lord Hunt of Wirral.
Mr Gilfoyle's sister, Susan Caddick, said: "The case that was put to the jury was a fairytale; it bears no resemblance to the evidence that we have brought out."
Previous suicide attempt
The jury was told Paula Gilfoyle was happy and would not have committed suicide - despite a suicide note written in her hand being found after her death.
Mr Gilfoyle was convicted in 1993, after the prosecution claimed he had made his wife's death look like a suicide by forcing her to write a note. He lost two appeals, in 1995 and 2000.
He served 18 years in jail and was released on parole in December 2010 - three months after Merseyside Police handed a bundle of Mrs Gilfoyle's previously unseen personal diaries to Mr Gilfoyle's legal team.
Ms Caddick claims if one diary, which details a previous suicide attempt, had been disclosed at the trial it could have shattered the prosecution's case.
Mrs Gilfoyle's family, who believe Mr Gilfoyle is guilty, said it would be absurd to infer the motives of a woman in her 20s from a diary she wrote as a 15-year-old.
'No misconduct'
Avon and Somerset Police has completed a review of what had happened to the diary - seeking to establish who found it, when and what subsequently happened to it.
The conclusions of the review have not been made public. The force said its findings had been handed to Merseyside Police, adding that disclosure of the report was at the discretion of the Merseyside force.
The BBC has submitted a Freedom of Information request to view the report.
Merseyside Police said the review "found that there was no misconduct or criminal conduct on behalf of Merseyside Police".
The force added: "The review found that the diary had been made available to the forerunner of the CCRC (Criminal Cases Review Commission) prior to the second appeal."