'No sign of injury' on body washed up on West Kirby beach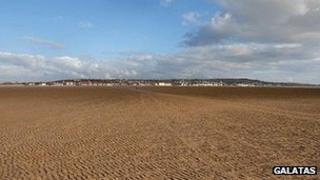 A man whose body washed up on a Merseyside beach had "no apparent sign of injury", police have said.
The man's body was spotted by a passer-by on West Kirby beach on Tuesday morning.
A post-mortem examination could not find the cause of his death but showed he may have died "during the summer months", a police spokeswoman said.
Det Insp Judith Blease said officers were "working hard to identify" the man while further tests were carried out.
The spokeswoman said he had died "sometime ago, possibly during the summer months or even prior to this" and could have been in the water "for some time".
The man, who was thought to be in his 20s, was white, about 5ft 10in tall and of average build with short dark coloured hair.
He was found wearing an Armani Jacket, a large polo shirt and jeans and white Adidas trainers and had a lighter, a pocket knife, keys and money in his pockets.
Ms Blease said she wanted anyone "who either recognises his description or who has any information that may assist our investigation to come forward".