Tranmere Rovers' Wilfred Owen memorial field plan backed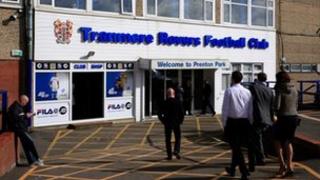 A football club's plan to build homes on land dedicated to World War I soldiers has been backed by the government.
Wirral Council approved Tranmere Rovers' application in October to build up to 90 houses on the Ingleborough Road memorial field.
It was stalled while the Department for Communities and Local Government decided whether to call it in.
But Secretary of State Eric Pickles sees no reason to scrutinise the plan.
Wirral Council received a letter on Tuesday stating that Mr Pickles had "carefully considered the impact of the proposals", but did not believe that there was sufficient reason to call the application in for his own determination.
Dedicated memorial
Kevin Adderley, interim strategic director for regeneration and environment at Wirral Council, said: "I am very pleased that the Secretary of State is, after due consideration, satisfied that that processes followed and the consideration against planning policies give no reason for him to consider calling in the application for his own consideration."
The proposal for the Ingleborough Road site has been opposed by campaigners.
The land was formerly part of Birkenhead Institute school and the fields and pavilion serve as a memorial to 88 former pupils, including poet Wilfred Owen, who lost their lives in World War I.
But plans for the new housing development at Ingleborough Road incorporate a dedicated, landscaped memorial area to the site to serve as a tribute to the pupils of Birkenhead Institute.
The council granted outline planning permission subject to conditions, including the club providing information about how it will fund the scheme.