Holt's Arcade, Liverpool: Protest over closure fears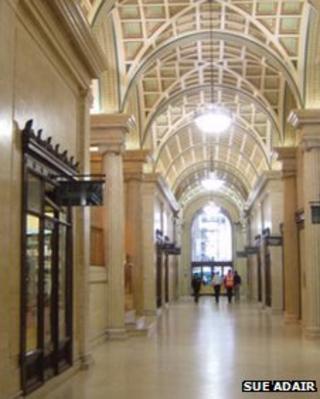 A protest has been held calling for a shopping arcade to be retained at a Grade II listed building in Liverpool.
Tenants fear the owners of India Buildings in Water Street want to replace Holt's Arcade on the ground floor with offices.
Owners Green Property Limited said it was struggling to find more retailers for the arcade.
Wayne Colquhoun, who runs an antique shop in the arcade, said: "We hope to work together with the landlords."
He said they wanted to make Holt's Arcade the Burlington Arcade of the north.
War damage
"Everyone was well-behaved and well-mannered and we're very grateful for everyone's support," he added.
Mr Colquhoun said more than 100 people took part in the protest but a spokesman for Green Property said the figure was 42.
Mike Tapp, director of Green Property Limited, said: "We share much common ground with Wayne. He knows that we've worked with other retailers in the arcade to help them trade, offering rent-free periods and even contributions to their fit out.
"They haven't succeeded because of some economic fundamentals outside our control, such as the shift in footfall patterns in Liverpool's business district caused by Liverpool One moving the retail zone up to its boundaries.
"In the absence of any retail interest in the vacant arcade units we are considering some active, short term use of these areas to promote some activity, and avoid empty shop fronts."
Holt's Arcade cuts through India Buildings between Water Street and Brunswick Street.
It was built between 1924 and 1931 as the headquarters of Alfred Holt's Blue Funnel Line at a cost of £1.25m.
Designed by Liverpool architect Herbert Rowse, it was refurbished in 1953 after being damaged during World War II.