Jason Osu shooting: Family warned police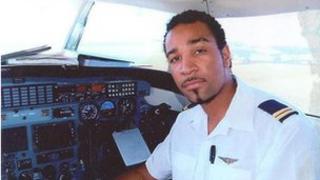 The brother of a man who was shot by two masked gunmen as he pulled into his driveway in Merseyside has claimed he warned police his family was at risk.
Jason Osu, 31, died on Monday, one week after he was shot five times in an attack described by police as "brutal".
His brother Mark alleges police were told last month that he and his family were under threat.
Merseyside Police said it had received a letter regarding Jason Osu's death and is looking into the details.
Jason Osu was killed at his home at the Beauclair Drive and Woolton Road junction in Wavertree in what police called a "targeted attack" in a "low crime, suburban area of Liverpool".
Family threatened
Chris Topping, solicitor for Mark Osu, said his client has complained to the Independent Police Complaints Commission and Merseyside Police that his warning was not taken seriously.
"Mark had raised various issues with Merseyside Police as recently as October in which he believed he there were likely to be threats in terms of people being injured," said Mr Topping.
"There is considerable distress that some issues that were raised don't appear to have been properly looked at or acted upon by the police," he added.
Mr Topping said his client told Merseyside Police that he was facing threats against himself and he feared there could be violence against himself and other members of the family.