Wavertree driveway shooting: Man dies after two masked men open fire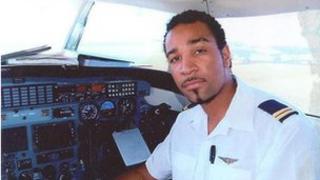 A man who was shot by two masked gunmen as he pulled into his driveway in Merseyside has died.
Thirty-one-year-old Jason Osu was shot five times on 19 November in an attack described by police as brutal.
He had been in a critical condition in hospital since the shooting at the Beauclair Drive and Woolton Road junction in Wavertree.
Police are looking for two men who fled the scene in a dark hatchback car, possibly a Citroen C4.
'Brutal murder'
Officers described it as a "targeted attack" in a "low crime, suburban area of Liverpool".
Det Supt Mike Shaw, said: "This was a brutal murder where a man has been targeted outside his home.
"It happened very close to Queens Drive, one of the city's major roads, at a very busy time and we are hoping that there are people out there who may have seen something."
He added: "We are looking for two men, who may have been waiting in Beauclair Drive for up to 40 minutes before the shooting, who, on the arrival of the 31-year-old, opened fire into the car."
Police believe the men, dressed in dark-coloured anorak-type jackets and balaclavas escaped in a dark-coloured hatchback car, possibly a stolen black Citroen C4, which was found burning nearby in Waldgrave Street, shortly after the shooting.
Police have released CCTV footage of the scene following the attack.