Warrington food bank opens to help those in poverty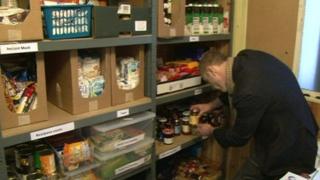 A food bank has opened in Cheshire to help residents caught in food poverty.
Five tonnes of food has been donated for the launch of the distribution centre at Friars Green Independent Methodist Church, Warrington.
Sixty volunteers from churches, charities and community groups are making packages containing a balanced diet for a family for three days.
The bank is open five days a week and organisers say need has never been greater.
Co-ordinator John Dolan said: "Parents are going without food, sometimes for days at a time, just to feed their children. This can be due to benefit delay, debt problems or sudden sickness of a self-employed breadwinner.
"Our hope is that a food bank in Warrington will give people immediate help when a crisis occurs."
Up to 14% of local children are stuck in food poverty, the charity claims.
The centre has asked for donations of non-perishable food.