Footballer Adam Hammill avoids jail over paramedics assault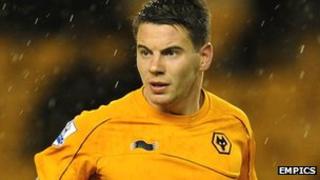 A footballer who admitted a drunken assault on two paramedics has avoided being sent to jail.
Adam Hammill, 24, of Bootle, lashed out at the women who had come to his aid outside Moniques nightclub in Liverpool in the early hours of 7 October.
The winger, a former Liverpool FC youth player, is on loan to Huddersfield Town from Wolverhampton Wanderers.
He was sentenced to 12 weeks' imprisonment suspended for 12 months at Liverpool Magistrates Court.
The court heard Hammill had collapsed inside the club and was taken outside by security staff.
But when the ambulance staff came to help him and tried to put him in a wheelchair he lashed out.
Lionel Cope, prosecuting, said one of the women was left with a bleeding nose after Hammill struck her.
The footballer had been celebrating a friend's birthday and had drunk up to 15 pints of lager and several shots, Mr Cope said.
In his interviews with police, Hamill said he had been assaulted inside the nightclub and, when he came to, he did not know where he was and thought he was still being attacked.
In a statement released by Huddersfield Town, Hammill said: "I would like to apologise to the people involved in this incident, as well as to the club and its supporters for letting them down.
"I'm thoroughly embarrassed by the whole affair and regret what happened."
Huddersfield Town chief executive Nigel Clibbens said: "We quickly took steps to impose a maximum fine and stand Adam down from playing in the immediate aftermath of his arrest... but kept our options open for further action pending the inquiries of the police and the outcome of his trial.
"After long deliberations, the board have decided that we will allow Adam's loan to continue until its scheduled end date on 13 January 2013."
Hammill, who pleaded guilty to two counts of assault at an earlier hearing, was also ordered by the court to carry out 150 hours of unpaid work, pay £350 compensation to both his victims and pay an £80 victim surcharge and £85 costs.