Hannah Windsor murder: Adam Lewis pleads guilty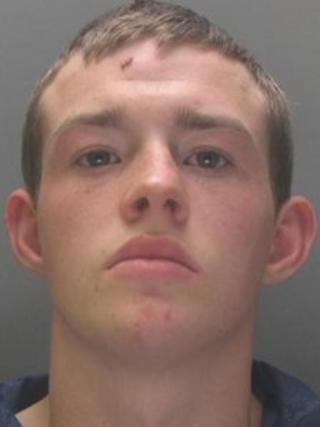 A man tortured his 17-year-old girlfriend in woodland before killing her, a court has been told.
Adam Lewis, 18, of Fairmead Road, Moreton, had denied murder, but changed his plea shortly before the trial was due to begin at Liverpool Crown Court.
Lewis tied Hannah Windsor to a tree on Bidston Hill, before strangling and attacking her on 19 May.
The teenager, who had previously pleaded guilty to manslaughter, will be sentenced on Tuesday.
Neil Flewitt, prosecuting, said Hannah, from Birkenhead, went to the same special school as Adam and had been in a relationship with him for about nine months.
The court heard Lewis had a mental age of nine or ten and a personality disorder connected to irrational and violent behaviour.
Betrayal
In May, Lewis burgled and set fire to a flat belonging to his sister's former boyfriend.
He told Hannah what he had done and said he was going to set up camp on the hill to keep away from police.
Hannah went to the police who warned her not to have any contact with Adam, but she visited him at his campsite.
The court heard Lewis became angry and tortured and killed Hannah, who he felt had betrayed him.
He tied her to a tree, stabbed and cut her repeatedly and strangled her.
Lewis also pleaded guilty to two counts of assault by penetration.
Hannah's body was found concealed under leaves. A post-mortem examination found she died from strangulation and blood loss.
Steven Riordan, defending said Lewis had no recollection of torturing Hannah.
He told the court Lewis was severely neglected at home and was known to child mental health teams since the age of seven, but experts agreed that his mental problems were not the driving force behind the killing.
Mr Riordan said: "The time may come, and one hopes it will, when he may face the enormity of what happened, but that time is not yet with us."
Lewis earlier pleaded guilty to the burglary he committed before he killed Hannah.