Baby giant otters take swimming lessons at Chester Zoo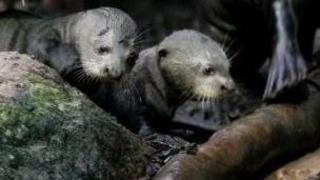 Two baby giant otters - the first to be born at Chester Zoo's new breeding centre - have made their first public appearance.
The pups were born in September, six months after the zoo opened the UK's first underwater viewing zone for the species.
They are now being individually taught how to swim by their parents.
Curator of mammals Tim Rowlands said: "They are such a charming and charismatic species."
"It might surprise some to learn that a species so well adapted to living around water actually needs to be taught how to swim, but that's exactly what happens," he said.
"Dad Xingu has been taking them by the scruffs of their necks and throwing them in at the deep end. And after each has had a little splash mum Icana then dives in and drags them back out."
The pups, which are an endangered species, will grow to a length of 6ft (1.8m) and a weight of around 5st 5lb (34kg).
In the wild giant otters are found in remote areas within some freshwater lakes, rivers, creeks, and reservoirs of tropical South America.