Man who tortured and murdered ex-teacher Brian Finnigan jailed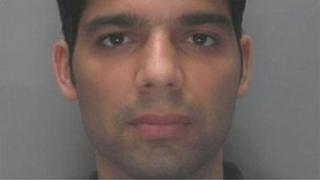 A Romanian man living in Liverpool who tortured and strangled his partner for his money has been jailed for life.
Retired teacher Brian Finnigan, 65, was found dead at his home on Green Lane, Stoneycroft, by police on 1 September 2010. He had been strangled.
Constantin Nan, 27, of Tuebrook, was found guilty of murder at Liverpool Crown Court. He was jailed for life with a minimum term of 31 years.
Police said Nan's actions had been motivated by greed.
Senior investigating officer, Temporary Det Supt Dave Brunskill, said: "Brian's family say he always tried to see the good in people and I believe Nan took advantage of this.
"Motivated by greed, Nan engineered a relationship with Brian in order to gain access to his savings.
"Nan stopped at nothing to get to Brian's money and cruelly inflicted much unnecessary suffering on Brian before his death to get him to sign cheques worth several thousand pounds.
"After murdering Brian he fled and it took a prolonged police investigation and co-operation from the authorities in Romania to get him back to face British justice.
"I am pleased that a dangerous and remorseless offender like Nan is now beginning an extremely long prison sentence."