Georgia Varley rail death: Guard thought she was not in danger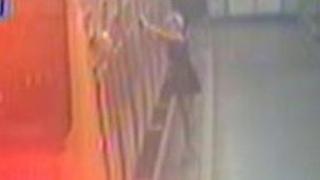 A Merseyrail guard accused of causing the death of a teenager who fell under a train did not know she was in danger, Liverpool Crown Court has heard.
Georgia Varley, 16, from Moreton, Wirral, died when she fell between the carriage and platform at Liverpool's James Street station in October 2011.
The court heard she was drunk and was leaning on the side of the carriage when the train began to depart.
Guard Christopher McGee, 45, denies manslaughter.
Mr McGee, of Edenhurst Avenue, Wallasey, who gave the signal for the train to set off, also denies failing to take reasonable care contrary to the Health and Safety at work Act.
He said he believed Georgia was moving away from the train when he gave the signal for the driver to depart.
Cross-examined by Nick Johnson QC for the prosecution Mr McGee said: "She looked like she was talking through the window or banging on the window."
Mr Johnson said CCTV showed Georgia was leaning against the carriage.
"I thought she was moving away," the defendant replied. "I didn't think she was in any danger."
Earlier, the court heard that Georgia had gone into Liverpool for a night out with her friends.
A blood analysis following her death showed she had 236mg of alcohol per 100ml of blood and the drug mephedrone in her system at the time of her death. The alcohol limit for driving is 80mg per 100ml.
CCTV footage shown to the jury showed Georgia mistakenly getting off the train just before 23:30 GMT on 22 October last year, before turning around and leaning against the side as she realised her friends were still on board.
The footage then showed her falling as the train pulled away.
Mr McGee told the court he did not know how drunk Georgia had been.
He said: "If I had known she was drunk I would have got her friends to look after her, but I didn't know."
The trial continues.