Liverpool Cathedral stages new style choir auditions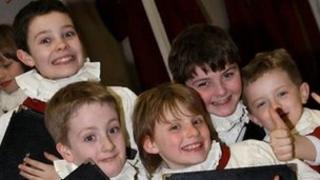 Liverpool Cathedral has staged new-style auditions for youngsters to get in the junior choirs.
The cathedral launched a Chorister for the Day event for children aged seven to 11 for the eight places available in both the girls' and boys' choir.
The audition process "proved a hit" with budding choristers, said assistant choral director Stephen Mannings.
He said: "It has given the youngsters a unique experience and a great insight into singing with the choir."
'Created lovely memories'
Twenty youngsters booked in for the Chorister for the Day event which did not require any previous musical experience.
Mr Mannings said: "They were very excited to get the chance to sing with the main choir at the Evensong service. The day has created lovely memories."
He added: "It is a slick way of auditioning. We did it because we wanted to make the audition process much less daunting, and ultimately fun."
The Liverpool Cathedral choir is made up of 24 boys and 24 girls.
As well as singing in the cathedral, choristers have opportunities to perform at civic ceremonies, tour abroad and work with famous musicians such as Sir Paul McCartney, who failed an audition for the choir in the 1950s.