Wirral Council cuts to end Tranmere sponsorship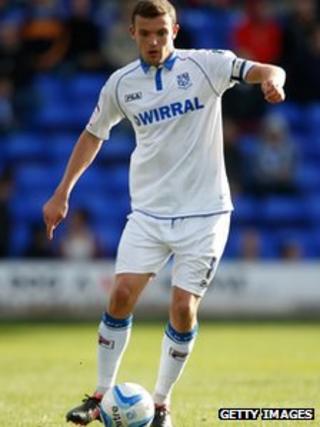 Plans to end sponsorship of Tranmere Rovers Football Club have been announced in a package of cost-cutting measures being proposed by a council.
Wirral Council also wants to cut children's services and 16 of the area's beaches will no longer be maintained, if the plans go ahead.
Chief executive Graham Burgess said back-office costs would be reduced but council services must still be axed.
The proposals will go to public consultation next week.
Mr Burgess said the proposals exceed the cuts needed to be made by 25%, meaning residents will have some influence over which will go ahead.
They include plans to outsource day care at some children's centres, charging schools for the provision of crossing patrols and reduce leisure services across the borough.
Garden waste charge
This would mean swimming pools at Europa Pools and Guinea Gap would close at quieter times.
The council also proposes to introduce an opt-in charge of £35 for the removal of garden waste, to cover collection costs, and reduce street cleaning in residential areas.
Although it will continue to maintain most major parks, sports pitches and golf courses, 100 "green" sites and all bowling greens will no longer be looked after.
Maintenance will end at 16 of Wirral's beaches and cleaning will stop at all of them.
Ending the sponsorship deal with Tranmere which has been in place since the 1989/90 season will save the council £135,000 a year.
Announcing the proposals, Mr Burgess said: "Council services must change - there is no other way of finding the massive amount of money we need.
"My pledge is that I will consult with residents, staff, community, voluntary and faith groups and businesses in order that we make the tough decisions we need to - taking your views and opinions into account."
Consultation with council staff will be held and there will be a series of consultation events for residents.
Wirral's cabinet will decide which options to take forward at meetings on 20 December and 18 February.