Merseyside Police has 'surplus officers', PCC candidate claims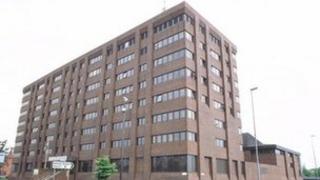 Merseyside Police has "surplus" officers and should disband specialist drug and hate crime units, a Police and Crime Commissioner candidate has said.
A debate was held on BBC Radio Merseyside earlier between candidates for the new role.
English Democrat candidate Paul Rimmer said the force should not be "fighting political agendas" by setting up units for specific crimes.
Labour's Jane Kennedy said the force must engage with minority groups.
Mr Rimmer was arrested in May after protesting against Toxteth police station flying a pro-gay rights flag. The case was later dropped.
"I think certain groups have favouritism. That's why the gay flag was such a serious issue - it's a sectarian approach which divides society.
'Political correctness'
"The chief constable has to respond to crime as it happens. We can't put resources aside for specific units.
"People want more bobbies on the beat, they don't want any political correctness in the police."
He added: "There are surplus officers on Merseyside - the force has cut 600 officers in the last three years and crime continues to fall."
Labour's Jane Kennedy argued police must make the effort to engage with groups who may "feel they can't approach the police" on issues like racial abuse, and put resources into making officers visible on the streets.
She said: "Many people have said to me how they value seeing more police officers on the beat, but that has to be balanced with tackling serious and organised crime, tackling gun and violent gang crime and working in co-operation with other forces.
"If I listen to the communities in Norris Green, Kirby or Bootle who are suffering gun and gang violence day by day, that violence is largely connected with organised criminal networks."
The force was tasked by the government with making savings of £61.5m over the next four years.
Hilary Jones, of the UK Independence Party, said extra savings could be made by getting more officers out from behind desks, adding: "Every police officer should spend two days a month out on the streets, not deskbound.
"Some have nice little desk jobs and are not out doing any of the work."
Independent Kiron Reid said police stations, some of which have closed to the public to make efficiency savings, should be made accessible again.
'Police have retreated'
He explained: "I was in Tranmere on Sunday night - there was a police station there with big signs saying you can't talk to the police there you have to go to Birkenhead.
"This was an operational police station with lights on and a van outside with signs up saying: 'Don't come and talk to us'.
"The police have retreated from the public and we should reverse that."
Liberal Democrat Paula Keaveney and Conservative Geoffrey Gubb agreed that the idea of police stations being the only place where people can find officers could be outdated.
Ms Keaveney said: "There are some police stations where it's good to keep the counter open because of their location, but there are others where I would rather the police had say a two-hour regular slot in the Co-op than sat in a building that nobody came to."
Mr Gubb added: "If the police station was positioned there back in the 1930s is it still needed where it is? Perhaps we need to look at where the community is more likely to access the police."