Warrington's HMP Risley prisoners locked up for 22 hours a day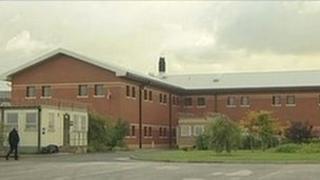 Prisoners are spending up to 22 hours a day in cells and drugs and violence are on the increase due to budget cuts at a Cheshire prison, inspectors found.
The Independent Monitoring Board (IMB) expressed "major concerns" about over stretched staff and "unfit" facilities at HMP Risley in Warrington.
The board has called for extra government funding "in order to maintain a safe environment".
The Prison Service said it is focusing on rehabilitation of prisoners.
HMP Risley, which houses 1,085 male prisoners including lifers and sex offenders, is one of the largest Category C training prisons in the UK.
But budget cuts of up to 20% per year are having a damaging effect on staff and prisoners, inspectors said.
'Not animals'
In its latest report the IMB said: "The continued requirement to make savings is having an adverse effect upon staff and prisoners, resulting in more violence (prisoner-on-prisoner and prisoner-on-staff). This is unacceptable.
"The board is aware of financial constraints on the public purse but would stress these cuts need to be limited in order to maintain a safe environment in which to keep prisoners."
The number of drug dogs and handlers has been reduced, leading to an increase in drugs and mobile phones making their way into the prison and "increasing the work load of the already over stretched security staff", the board found.
B wing has been described as "unfit for purpose", with reports of cockroaches, showers working intermittently and cramped conditions.
The number of places on training courses has been cut, with places currently available for about half the population.
Prisoners unable to work, because they are unfit or over 65, typically spend 22 hours a day in their cells.
Board chairman Mike Cunliffe said: "We're talking about human beings, we're not talking about animals, you can't keep people locked away for 22 hours a day."
A Prison Service spokesman said ministers will consider and respond to the report.
He added: "We are determined to reduce reoffending and rehabilitate offenders by providing them with opportunities to gain the necessary skills to help find employment on release, and hopefully to turn away from a life of crime.
"We want more prisoners to undertake challenging work, within the discipline of regular working hours, which is why HMP Risley is further developing the working in prisons scheme."