Work starts on Rhys Jones Community Centre in Liverpool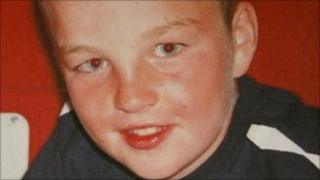 The parents of murdered Liverpool schoolboy Rhys Jones have launched the start of building work on a community centre in his memory.
Eleven-year-old Rhys, from Croxteth, was shot as he made his way home from football practice in August 2007.
Melanie and Stephen Jones dug up the first piece of turf for the Rhys Jones Community Centre.
In 2008, Sean Mercer, 18, was jailed for life with a recommendation he serve at least 22 years for killing Rhys.
The site, scheduled to be completed in 16 months, will include all-weather football pitches and a pavilion.
'Lasting tribute'
Rhys's mother Melanie Jones said: "It's been a long time coming but it's an amazing day today.
"This place is going to be a lasting tribute to Rhys and it's something that all the kids in the area will make use of and I'm sure they will all be delighted when it's finished.
"Rhys would have loved a facility like this because he was football mad.
"I just hope that everyone gets as much enjoyment out of it that he would have done."
The schoolboy was shot in the car park of the former Fir Tree pub in Croxteth when he was caught in the crossfire between two gangs as he left a nearby football pitch.
The centre, close to the site where Rhys was killed, was given the go-ahead by councillors at a meeting on Tuesday.