Liverpool 'will be one of world's best' cities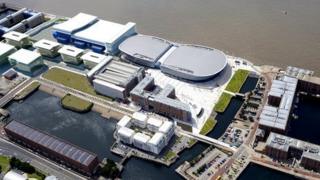 "Bold" plans for Liverpool to develop into a world-renowned trading and cultural city over the next 15 years have been unveiled.
The proposals by economic development agency Liverpool Vision include further regeneration of the waterfront with a £40m exhibition centre.
Better transport links, a new teaching hospital and more offices are planned.
The developments will enable the city to become "an international force to be reckoned with", Liverpool Vision said.
Max Steinberg, chief executive of Liverpool Vision, said: "[The plans are] designed to create a new trajectory for the city through which Liverpool will become a world-renowned international trading and cultural location.
"We have bold plans that play to our strengths and through their careful exploitation we will be an international force to be reckoned with."
'Exciting times'
The new City Centre Strategic Investment Framework follows a similar proposal launched in 2001, which has been hailed a success.
It envisioned the Liverpool ONE shopping area, Arena and Convention Centre, cruise liner facility and other developments that have since come to fruition.
The development of the waterfront is one of the main features of the latest plans - despite Unesco warning the scheme, involving skyscrapers, could see the city have its World Heritage Status removed.
Construction firm ISG, which built the velodrome for the 2012 Olympics, has already been appointed to build the planned exhibition centre on the waterfront.
Expansion of Liverpool Science Park, a new teaching hospital, a circular bus route linking the Knowledge Quarter with the city centre and Commercial District, development of city centre gardens and pedestrian spaces are all proposed.
Underground trains could see expansion towards Liverpool Waters and a new station at St James Street, and development of Central and Moorfields train stations.
Also, under the plans some buildings and areas would be permanently lit up to showcase architecture.
Mayor of Liverpool Joe Anderson said: "Exciting times beckon for Liverpool. The last framework of this kind delivered a high-class waterfront, a transformed business district and one of the best cultural and retail offers in the UK.
"It is a foundation for progress and will advance Liverpool towards its goal of become one of the world's greatest cities."