Ex-St Helens council leader fined after election assault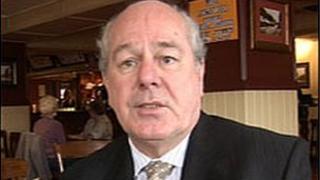 The former Liberal Democrat leader of St Helens Council has been fined for assaulting the Labour candidate during an election night row.
An altercation broke out between Brian Spencer, 65, and Labour's Mark Johnson, 25, at the count at St Helens Town Hall on 4 May.
Mr Spencer, from Sutton Leach, lost his seat on the council in the ballot.
He pleaded guilty to the assault at South Sefton Magistrates' Court. A second assault charge was dismissed.
'Landed on his mother'
The confrontation between Spencer and Mr Johnson resulted in Mr Johnson falling and landing on his mother, Janet Johnson. Mrs Johnson is the councillor for Sutton ward.
Spencer was fined £110 and ordered to pay compensation to the victim, and costs to the Crown Prosecution Service.
He said: "I am just glad it's all over and I can get on with working in the community."
Mark's father, Anthony, who is councillor for Bold ward, said: "We are so pleased it has finally come to an end and he has admitted what he did.
"You don't expect that kind of behaviour in the town hall. It's just lucky police were there to witness it."
He said the incident has not put his son off politics: "If anything it has made him more determined."
He added: "He is looking to stand for in the Sutton ward at the next election."