Yoko Ono donates to students at Liverpool university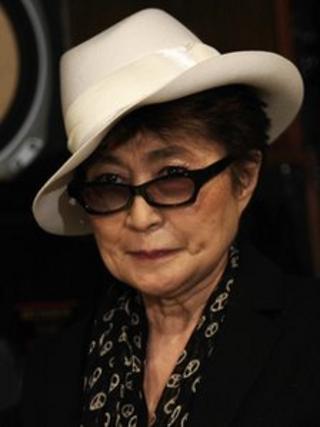 Yoko Ono has donated £100,000 to help vulnerable students at Liverpool John Moore's University (LJMU).
John Lennon's widow has given the money to provide support for youngsters who have been in local authority care, or are estranged from their parents.
The money will be used to continue the John Lennon Imagine Awards, set up in 2009 following a gift from Ms Ono.
The scheme offers bursaries of £1,000 to students who qualify at the university where Lennon once studied.
The Liverpool-born Beatle joined the School of Art and Design in 1957.
Ms Ono said: "Over the last three years we have witnessed the significant impact that the awards have had on the students' self-confidence, achievements and future prospects.
"Our first set of students has now successfully graduated and they are in turn now helping to mentor those just starting out at the university.
"I know that these awards, set up in John's name, have made a real difference to the lives of these young people and I am delighted and proud that John's legacy lives on in such a force for good."
The university said more than 200 students had benefited from the scheme so far.
LJMU Vice-Chancellor Professor Nigel Weatherill said: "The importance of studying at university on improving life chances cannot be underestimated and LJMU has always demonstrated a true commitment to helping students reach their full potential, regardless of background and circumstance.
"We are extremely grateful for Yoko's continued support of this unique and vitally important initiative, the success of which has surpassed all of our expectations."