Bettison due £83k-a-year pension despite Hillsborough probe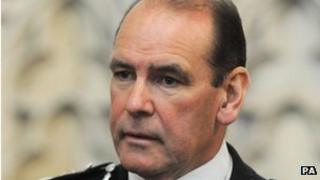 Sir Norman Bettison will receive an £83,000-a-year pension unless he is convicted over the Hillsborough cover-up, Merseyside Police Authority said.
Families of the 96 fans who died in the 1989 tragedy had called for payments to be frozen during an IPCC probe into claims he misled previous inquiries.
The police authority said the payments, from a central taxpayers' pot, will come into effect now he has resigned.
If he is convicted of a criminal offence the pension can be forfeited.
In that instance, the authority or crime commissioner can seek permission to forfeit a pension from the Home Secretary.
'Public interest'
An IPCC spokesman said: "It should be noted we can and, in this case, will investigate both criminal offences and misconduct matters after an officer has retired or resigned as it is in the public interest to do so.
"Retirement or resignation does not prevent criminal prosecution should the investigation identify criminal offences, including misconduct in a public office."
The Merseyside authority is responsible for Sir Norman's pension payments since he initially retired as chief constable from that force in 2005, before returning to take up his post as West Yorkshire's chief constable.
Authority chief executive Paul Johnson said: "I would like to make it clear that this is at no specific cost to the Merseyside taxpayer.
"Whilst his pension will be paid through Merseyside Police Authority, police pensions are funded, ultimately, through general taxation."
'Concocted story'
Earlier a letter by former friend John Barry was read out in the House Of Commons in which he claimed Sir Norman, a serving officer with South Yorkshire Police at the time, told him he was "trying to concoct a story that all the Liverpool fans were drunk".
The Hillsborough Independent panel's report in September found 164 statements had been altered by senior officers at South Yorkshire Police.
Sir Norman is facing an Independent Police Complaints Commission (IPCC) investigation into allegations he helped "concoct" a false version of events. He has denied these allegations.
Margaret Aspinall, chair of the Hillsborough Families Support Group, said: "I feel angry, and so do many others, that he is still getting well paid even though he's under investigation.
"We will wait to see what the IPCC comes out with and if there is any suggestion of wrong-doing, especially perverting the course of justice, they should freeze these payments straight away."