Hillsborough families welcome Bettison resignation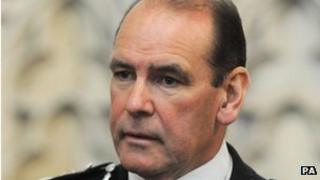 Relatives of fans who died in the 1989 Hillsborough tragedy have welcomed the resignation of West Yorkshire Police Chief Constable Sir Norman Bettison.
The police watchdog is investigating claims Sir Norman provided misleading information after the disaster, in which 96 Liverpool fans died.
Sir Norman said the inquiry was a distraction to his force.
A Merseyside MP claimed on Monday in the Commons there was evidence Mr Bettison tried to blame fans.
Maria Eagle, Labour MP for Garston and Halewood, told the Commons she had received a letter from John Barry, originally sent in 1998 to a solicitor working on behalf of the bereaved families, in which retired civil servant Mr Barry claims Sir Norman told him, just weeks after the event, that the police were "trying to concoct a story that all the Liverpool fans were drunk".
Steve Kelly, of the Hillsborough Justice Campaign, whose elder brother Michael died in the tragedy, said: "I am pleased he is going, his position had become untenable after what Maria Eagle said."
Statements altered
Trevor Hicks, President of the Hillsborough Families Support Group, who lost two daughters in the tragedy, said: "It was long overdue. His was a position of trust and he had lost that trust a long time ago."
Sir Norman, was serving with South Yorkshire Police at the time of the tragedy and his appointment as Merseyside Chief Constable in 1998 was met with protests from a number of Hillsborough families.
Mr Hicks said at the time the appointment was "appalling", three members of the police authority resigned and a 15,000-signature petition was collected.
Fans believed Sir Norman was part of a team that tried to cover up what really happened.
Hillsborough families have argued that their long held belief was vindicated when The Hillsborough Independent panel's report in September found 164 statements had been altered by senior officers at South Yorkshire Police.
Sir Norman is facing an Independent Police Complaints Commission (IPCC) investigation into allegations he helped "concoct" a false version of events. He has denied these allegations.