Liverpool Central station reopens after £20m revamp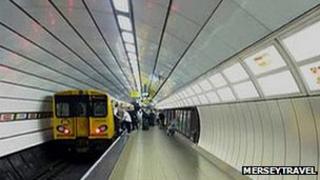 A Liverpool underground station has fully reopened following a £20m refurbishment.
Liverpool Central was closed in April to allow an overhaul of both the Wirral and Northern line facilities.
It reopened its Wirral line platforms in August and has now completed work on the Northern line, which serves 70% of the station's customers.
Merseytravel chairman councillor Liam Robertson said the station was "now fit for purpose".
A Merseytravel spokeswoman said the refurbishment had been ordered to "cope with the rise in passengers expected over the next few years".
"Liverpool Central station has by far the highest footfall on the Merseyrail network, with 18 million passengers per year [and] this is likely to increase 40% by 2020," she said.
The work on the station has seen platforms retiled and ceilings replaced. Several machinery rooms have been removed to create more platform space and escalators have been renewed.