Oliver King heart death: Liverpool school gets defibrillator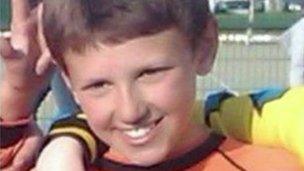 The first of 122 Liverpool primary schools has received a defibrillator after a campaign sparked by the death of a boy who had a heart condition.
Every primary school in the city will get a machine, with the first presented to Pinehurst Primary School in Anfield.
Oliver King, 12, a pupil at King David High School in Childwall, died during a swimming lesson from Sudden Arrhythmic Death Syndrome (SADS) in March 2011.
His parents attended a special handover ceremony along with city leaders.
Campaigners say the scheme is the first of its kind in the country. The Department for Education said it had no record of any similar scheme.
Oliver's dad Mark, who set up the Oliver King Foundation, said: "This is a momentous moment and marks the start of a project that will save lives.
"We need to have a defibrillator in all public buildings to make sure that Oliver's death was not in vain."
A defibrillator uses electric shocks to stop a heart that is beating irregularly, in the hope of restoring a regular heartbeat.
The £100,000 project is being rolled out to the city's schools over the current academic year.
Training will also be provided for school staff.
Oliver's family believes that if a defibrillator had been available, his life could have been saved.
The foundation aims to get the government to install a defibrillator in all public buildings by 2017.
Pupils aged 14 to 16 at Oliver's school have been taught how to use the machine as well as how to perform resuscitation.
Liverpool City Council has purchased defibrillators for each of its Citysafe vehicles, as well as the Cruise Liner Terminal.
Related Internet Links
The BBC is not responsible for the content of external sites.