Rooftop playground plan approved for Birkdale school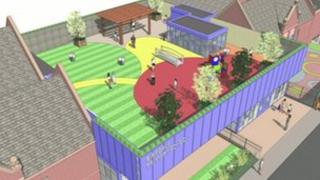 A primary school is hoping to solve its lack of space - by putting the playground on the roof.
Birkdale Primary School in Matlock Road, Southport, Merseyside, plans to use the current yard to build four new classrooms, toilets and offices.
A play deck at the 320-pupil school would be enclosed by a sound-absorbing screen.
The plans were approved by Sefton Council at a planning committee meeting earlier.
Head teacher Nick Sheeran said: "The play deck will have walls on each side that are high enough and safe enough for the children.
"All the children and all the parents are behind it, and so are the majority of the residents.
"During the consultation most people liked the modern, 21st Century design."
He said the expansion would mean the school could increase its intake from 45 to 60 each year.
"We are a very, very popular school, a creative and successful school," he said.
"We currently have a 60-place nursery but can only take 45 children, so every year there would be parents in tears whose children couldn't get into the school.
"This will go some way to easing those issues."
Building work is due to start in January to be completed by September.