Merseyside Police officers accused of brawl cover-up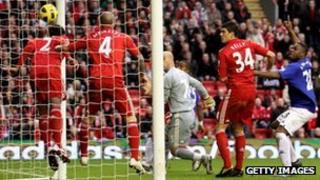 Two Merseyside Police officers involved in an alleged assault before a football match pressured a witness to withdraw his statement, a jury heard.
Det Sgt Gregory Symon and Det Con Christopher Sheron are on trial accused of perverting the course of justice at Preston Crown Court.
The off-duty officers were in a brawl before an Everton versus Liverpool game in January 2011, the jury heard.
Six men alleged to have conspired with them are accused of the same charge.
Another officer, Det Con Mark Scarratt, 43, of Newsham Drive, Fairfield, also denies a charge of misconduct in a public office.
Everton fans Sheron, 43, of Quebec Quay, Liverpool, and Symon, 39, of Shirley Road, Garston, were walking past the King Harry pub near Anfield stadium when a row broke out between two sets of supporters, the court heard.
'Innocent bystander'
Hugh McKee, prosecuting, told the court: "Sheron, an off-duty policeman, assaulted a young man by the name of Scott Wells.
"Symon, another off-duty police officer, threatened him and was abusive."
Mr Wells made a statement to police identifying the pair and they "brought to bear pressure" which resulted in him retracting his statement, Mr McKee said.
The court was shown a text message sent by one of the six other defendants to a relative of Mr Wells, which read: "The lads can't ring u the police have got their phones and because there busys [police officers] it would get them in more s***, if you've got anything you want passing on txt or ring me I'll speak to them later, basically they fink it's best for all if the statements withdrew."
Mr Wells was described by Mr McKee as an "innocent bystander" who thought he was going to die when he was grabbed around the throat tightly by Mr Sheron.
The following day the pair feared for their jobs and "set about finding out the state of the police investigation", Mr McKee said.
Mr Sheron called Mr Scarratt, who was working in the same office as the officers investigating the brawl and who passed on confidential information about the case, the prosecution alleged.
In one text Mr Scarratt said: "Mate. Spoke to one of the lads. Nothing to worry about. Slow coz the boss is a dope. Txt me if u need any more."
Mr Sheron replied: "Legend thanks. owe u a ticket sometime."
The other men charged with conspiracy to pervert the course of justice are: Colin Stewart, 43, of Store Street, Bootle; Kevin Morland, 36, of Rosedale Road, Allerton; Niall Macklin, 21, of Layton Avenue, Prenton; John Nuttall, 45, of Warnerville Road, Old Swan; Christopher Hannon, 24, of Merlin Road, Prenton; Stephen Foster, 30, of Warbreck Road, Orrell Park.
The trial is due to take eight weeks.