Hillsborough: What will the new inquests mean for families?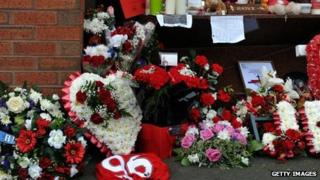 A report by the Hillsborough Independent Panel, published last month, concluded that police had tried to cover up the failings of the South Yorkshire force and to shift the blame on to fans. The Attorney General is applying to have the verdicts in the inquest into the 96 deaths at Hillsborough quashed - but what does this mean for families of the victims?
The Attorney General's announcement does not necessarily mean that new inquests will be held into the deaths of all 96 people who died in the Hillsborough disaster. Still less does it mean that criminal charges will follow.
But Dominic Grieve's request is likely to be granted by the High Court, leading to fresh inquests.
It is also likely that the original verdicts of accidental death will be quashed.
The Attorney General's announcement raises the possibility that new inquests will return narrative verdicts recording that some of the Liverpool fans might have survived if mistakes had not been made in 1989.
'Cautious and sceptical'
The Attorney General's request is likely to be granted by the High Court and a fresh inquest is unlikely to return verdicts of accidental death on all 96 victims, giving their relatives some comfort.
Interviewed for Radio 4's Law in Action, Julian Knowles QC said: "There is evidence... that demonstrates that one of the working assumptions of the original inquest - namely that people were dead or beyond help by 3.15pm - was wrong and it now seems clear that a significant number of those who died may not have died had they received medical help."
However, Mr Knowles, who advised the family support group at an earlier stage in the proceedings, did not think that a new inquest would return the verdicts of unlawful killing sought by some family members.
"I am cautious and sceptical whether they'll succeed in that aim," he said.
Unlawful killing was a verdict that required a high standard of proof, Mr Knowles added, and inquest verdicts would not automatically lead to prosecutions.
In a private prosecution 12 years ago, a jury had been unable to agree whether Ch Supt David Duckenfield, in overall command at the match, should be convicted of manslaughter.
The Attorney General told MPs that he had not completed his consideration of the evidence needed to support his High Court application.
'Considered afresh'
He has to persuade the court that it would be "necessary or desirable in the interests of justice" for the original inquest verdicts to be quashed - because, for example, of "the discovery of new facts or evidence".
Mr Grieve's current view was that he should ask for fresh inquests to be held on all 96 victims of the disaster.
However, his announcement took account of the fact that some families might not wish the circumstances of their loved one's death to be reopened nearly a quarter of a century later.
The Attorney General told Parliament: "I believe that these deaths, arising as they do from a common chain of events, should all be considered afresh.
"However, before reaching any final view on the scope of the application, I want to give the families affected the opportunity to make any representations in respect of the family member or members they lost.
"I will therefore be in contact with each family seeking views."
Listen to the full report on Law In Action on BBC Radio 4 on Tuesday, 16 October at 16:00 BST and Thursday 18 October at 20:00 BST. Listen again via the Radio 4 website or the Law in Action download.