Birkenhead Park Spitfire crash remembered at service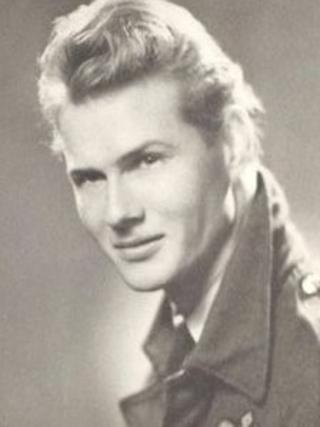 A service has been held to remember the moment a Spitfire fighter plane crash landed in Birkenhead Park 70 years ago.
The pilot - US serviceman Douglas Cooper Goudie - managed to bale out of the plane and land in Dingle with just a sprained ankle.
The plane continued on over the River Mersey and plunged into a field in the Wirral park without hurting anyone.
People gathered at the crash site at 14:30 BST to mark what happened on 14 October 1942.
The service was to be followed by a concert from the Royal Air Force Regiment Band at the Floral Pavilion in New Brighton on Sunday evening.
All proceeds from the concert will go to the Royal British Legion Birkenhead Branch Poppy Appeal.
The Mark 2a Spitfire had taken off from RAF Hawarden on a test flight on the day of the crash.
It came down in a field within Birkenhead Park known as Night Pasture.
Much of the wreckage, including the engine and some of the cockpit instrumentation, remained buried in the field until five years ago when an excavation team from the Warplane Wreck Investigation Group mounted a salvage operation.
The engine is now on display alongside other war plane artefacts at Fort Perch Rock in New Brighton.
Fort Perch Rock is managed by Doug Darroch, whose father Doug Darroch Senior witnessed the crash.