Sefton libraries closure threat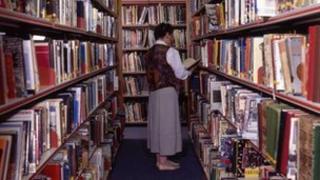 Ten out of 13 libraries in Sefton could shut as part of council cuts.
The future of the libraries will be discussed on Thursday as Sefton Council looks to save £43m over two years, due to government cuts in funding.
Campaigners have warned of "cultural vandalism" as libraries in Ainsdale, Aintree, Birkdale, Bootle, Churchtown, Crosby, Formby, Litherland and Orrell could face closure.
Bill Millburn, of Sefton Council, said closure was one of three proposals.
'No decisions'
They are: closing 10 libraries and leaving three open in Southport, Maghull and Netherton; closing seven buildings and creating five "township" libraries; or keeping all libraries open and reducing opening hours.
Mr Millburn said: "The meeting is to agree a consultation process so no decisions will be made.
"There are 150,000 registered users in the last 12 months, and 50,000 of those registered users visited the library and took a book out over the last 12 months."
He said 1.3 million books had been loaned in the last year, and the council was encouraging all library users to take part in the consultation.
Lib Dem Councillor Haydn Preece, founder member of Friends of Ainsdale Library, described proposed closures as "cultural vandalism".
He said: "I question the 'under-use' of libraries. Libraries in Sefton are used by a very diverse number of the population.
"We really need to be fighting to keep our libraries open."
Earlier this year in Liverpool Council ended the city's mobile library service, closed three libraries in Edge Hill, Great Homer Street and Woolton, and closed and cut opening hours at the remaining libraries.
In 2009 Wirral Council abandoned plans to cut 11 local libraries in the borough after objections from residents.