Liverpool Council repays Pier Head cruise terminal grant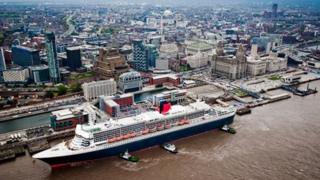 Liverpool City Council has paid back £8.8m of a government grant to allow cruises to start and end on the River Mersey.
The city received £9.2m of public funding to build a cruise terminal at the Pier Head to allow ships to visit.
The original terms of the grant meant the terminal would be used for cruise stop-offs, not "turnarounds".
The repayment was made after rival port Southampton said it was unfair for Liverpool to receive public money.
Mayor of Liverpool Joe Anderson said: "We agreed to abide by the ruling of the independent arbiter and pay the money back, and that is exactly what we have done.
"As soon as the government gave us details of how they would like the payment to be made, we arranged for it to be settled promptly."
'Not happy'
However the project also received £8.6m in European Commission funding which Southampton Council said should also be paid back.
Councillor Richard Williams, leader of Southampton City Council, said: "While Liverpool City Council has paid back £8.8m to the government, we are not happy that they appear to be operating a turnaround port before a final decision has been made by the European Commission.
"We simply want Liverpool to play by the same competition rules as everyone else.
"This is being currently investigated by the European Commission who gave them £9m from public funds. State Aid should not be used to bias the market.
"If a decision is made in Liverpool's favour it will only be fair if they repay this money as well."
A Liverpool City Council spokesman said: "It is our view that the change of use is compliant with European law.
"We are now involved with UK government and the European Commission in seeking a formal State Aid sign-off as regards the original investment and the move to turnaround.
'Unrivalled maritime history'
"However, State Aid law is complex and we understand a final decision could take many months to reach. We shall co-operate fully with the European Commission in this matter."
Liverpool City Council said the cruise liner terminal, which is hosting around 30 vessels this year, brings in tens of thousands of passengers and is generating millions of pounds for the local economy.
Mr Anderson added: "Liverpool has an unrivalled maritime history and we are now on the way to restoring our reputation as a leading cruise destination.
"For far too long holidaymakers in the north have had to travel to and from other places to start their journeys, and this is helping to return Liverpool to its rightful place as a major cruise port."