Liverpool Waters £5.5bn plans submitted to government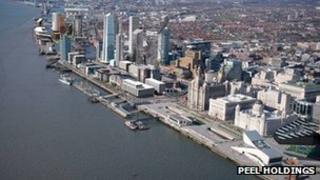 Plans to transform Liverpool's docklands have been submitted to the government for final approval.
The £5.5bn redevelopment would include skyscrapers, a cruise liner terminal and thousands of apartments.
Bidder Peel Developments said the Liverpool Waters scheme could create up to 20,000 jobs.
Liverpool is in danger of losing its World Heritage status if the scheme goes ahead, according to the United Nations heritage agency.
Secretary of State for Communities and Local Government Eric Pickles will now decide if the scheme should be subject to a public inquiry.
Liverpool City Council (LCC) approved the project last month and submitted the plans for approval.
Mr Anderson said: "I am confident [the plan] will fully convey to the secretary of state our ability to deliver this vitally important regeneration scheme, while protecting our architectural heritage."
The United Nations Educational, Scientific and Cultural Organization (Unesco) said the project could "irreversibly damage" the city's historic docklands and the committee put the city on an "in danger" list in June.
Unesco has warned Liverpool may lose the "outstanding universal value" for which it was granted World Heritage status in 2004.